News: Alumni
Meet Emma Amaral of Team Gotcare 2018-19: Self-directed Home Care in Ontario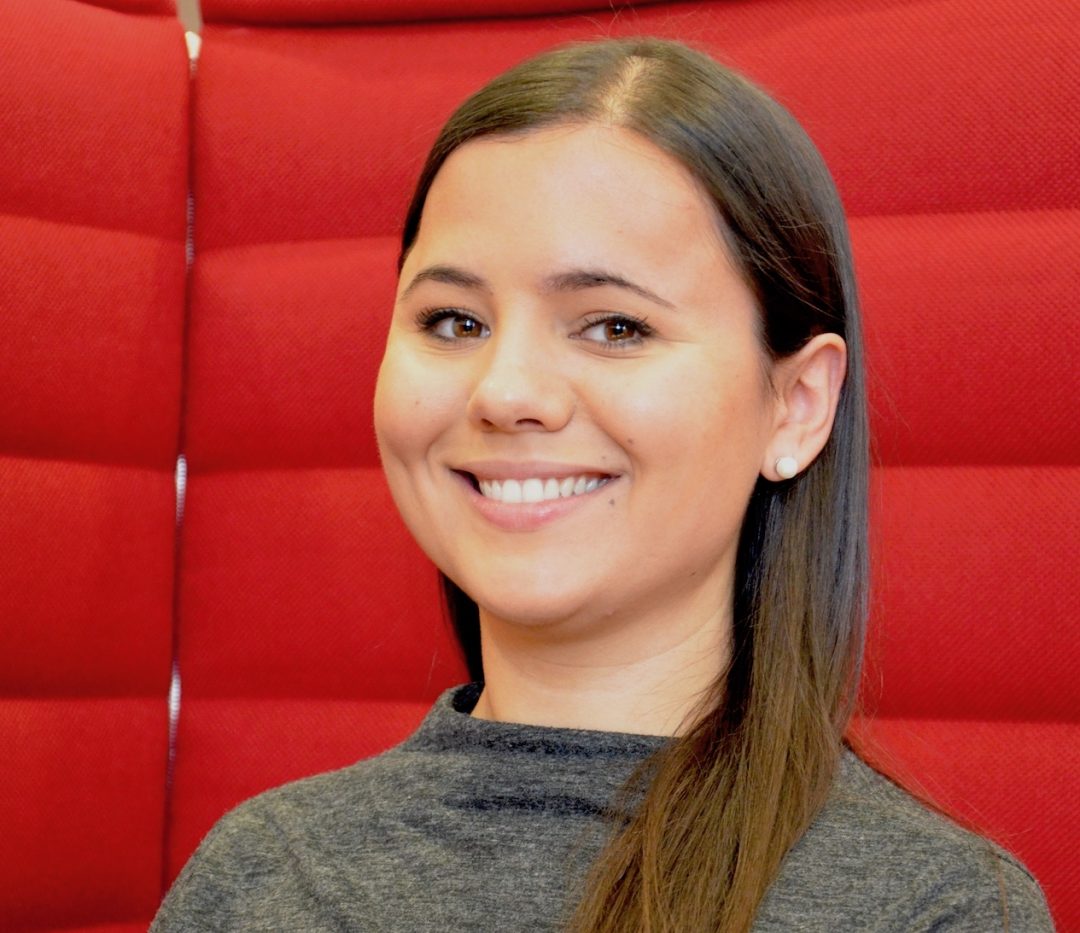 Meet Emma Amaral of Team Gotcare 2018/19: Self-directed Home Care in Ontario
You've been working as a Policy Analyst at Global Affairs Canada (GAC) since graduating from the MGA program. Can you tell us more about that and how your Reach experience played a role?
As a policy analyst with GAC's Centre for International Digital Policy, I work at the intersection of emerging technologies and foreign policy. My team advocates for approaches to the global governance of technology that support Canadian priorities, such as democracy, human rights, and the rule of law. We're constantly grappling with how evolving technologies such as Artificial Intelligence are reshaping society, from the individual level to the geopolitical. This exploration of complex topics in a forward looking way from all levels of analysis is similar to how Reach tackles its case studies.
Can you tell us about an interesting project that you're working on now?
An exciting part of working for GAC is engaging in diplomacy in multilateral forums like the Freedom Online Coalition (FOC), a group of 32 countries including Canada dedicated to promoting human rights online. I worked on the launch of a Canada-led Taskforce on AI and Human Rights (or "T-FAIR") at the FOC in 2020. It's rewarding to see what we've accomplished in the past year, including publishing a Joint Statement with 10 calls to action for governments worldwide to promote rights-respecting AI. We recently had the statement translated into four languages, and I'm planning an outreach strategy to promote uptake.


How has an organization like GAC pivoted during the COVID-19 pandemic? What strategies have you adopted to be able to complete your work remotely and stay motivated?
Like many other organizations, we had to adapt our working methods to the virtual space very quickly. It certainly comes with challenges – for example, the cancellation of non-essential travel prevents us from attending international conferences and events where we'd normally be negotiating and collaborating on our files. But carrying out these projects virtually has also allowed us to engage with stakeholders who may have faced challenges to attending in-person events. We can be flexible and agile, bringing together far more participants in a videoconference than we could ever fit in a boardroom. It helps to celebrate these silver linings!
You've recently been accepted to medical school, congratulations! AND, you're enjoying your role at GAC. How did your experience in Reach inform your career path and how did it impact your decision to pursue med school?
Our Reach case study on technology-enabled innovation in Ontario's home care system highlighted that the greatest health care challenges of our generation require interdisciplinary, holistic solutions. We dove into a breadth of factors related to home care, such as systemic issues contributing to the labour shortage of Personal Support Workers; the health outcomes of seniors aging at home compared to institutional settings; the potential for technology to enable personalized care; etc. This solidified my goal to become a doctor that can engage across the health care system: from delivering patient care to developing policies that promote dignity and wellbeing for all.
What takeaway from your experience as a Reach researcher are applying to your work now at GAC?
My team and I developed many different skills throughout the case study process that have stuck with me! Drafting our Reach products required me to hone my writing skills and become far more ruthless at editing my own work, like cutting jargon. Creating succinct products on complex topics for an audience of non-experts is part of my daily work at GAC. We also had to secure and conduct meetings with experts during our data collection process which required confidence and professionalism. Building relationships with stakeholders across governments, civil society, academia, etc. is an important part of GAC's work.
What is your fondest memory from your experience in Reach?
I think my fondest memory from Reach was the day my team and I learned our article was going to be published in a peer reviewed journal! This was my first publication of this kind and was the culmination of over a year of constant teamwork and keeping each other motivated. Because Reach is so student directed, our team learned the nuts and bolts of publishing a rigorous qualitative case study from beginning to end.

Your Gotcare Research Team really pushed the envelope creatively with your research outputs (publishing a policy brief, an op-ed, peer-reviewed article, etc.). What inspired you and your team to think so creatively about the knowledge translation strategy for your research?
Our research on home care took on a completely new level of significance when the pandemic hit, and the inability of long-term care homes to keep seniors safe was devastating so many families. Although we initially only had plans for a peer-reviewed article, we quickly decided that a policy brief and op-ed could be useful contributions to the public discourse. This was only possible because our team was so interdisciplinary, with expertise from research to policy. We also didn't want to simply dissect the problem but translate our insights into timely recommendations for policy makers.