News
Fighting No Bed Syndrome in Ghana's Hospitals and Beyond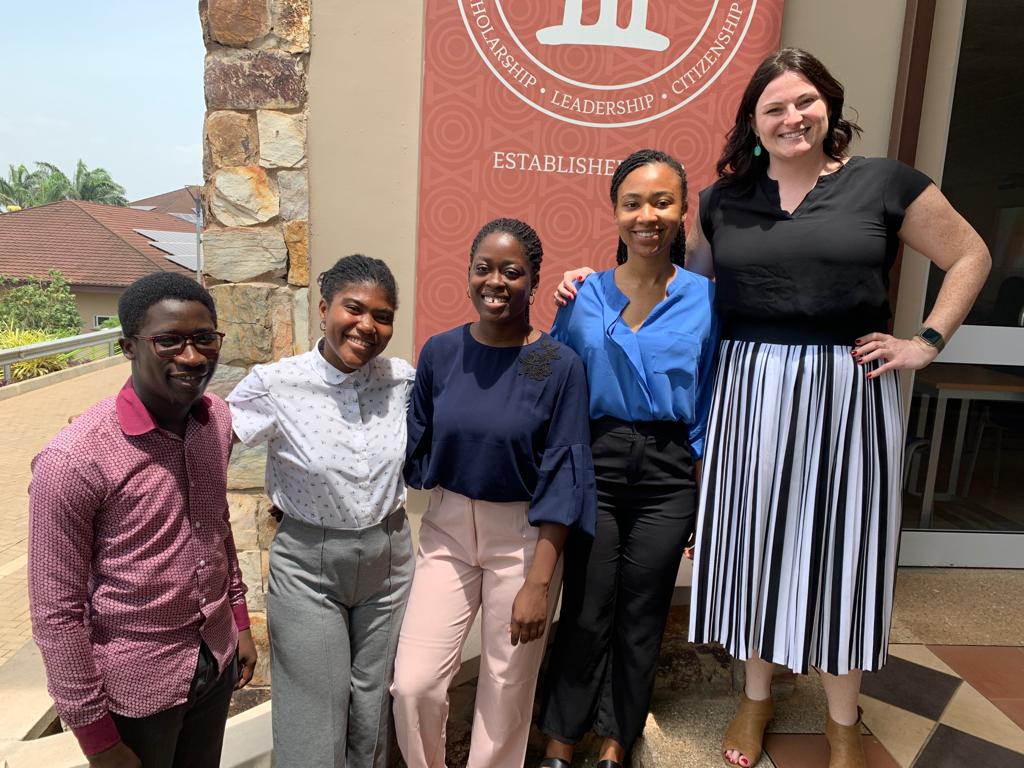 In 2018, Ghana introduced new terminology after 70-year-old Anthony Opoku-Acheampon died from multiple failed attempts to secure a hospital bed for treatment. While the phrase 'No Bed Syndrome' was coined in Ghana, it represents a global problem; the chronic shortage of hospital beds.
According to the World Health Organization, every country needs five beds per 1000 population. However, there are 0.9 beds per 1000 population in Ghana. Ashesi University's Reach research focuses on identifying the causes and effects of the 'No Bed Syndrome' in tertiary hospitals, the existing solutions, their success and failure factors, and will propose new policy consideration to help solve the problem both in Ghana and beyond.
The Reach Alliance caught up with new Ashesi Reach researchers Elvira Agbatsi, Christian Fiergbor, Samantha Reindorf, Jochebed Basil, and faculty mentors Professor Sena Agbodjah and Professor Disraeli Asante-Darko.
Christian, you are one of the Reach researchers heading to New York for the AFS Youth Assembly this summer. What are you most looking forward to and what do you hope to learn from that experience?
Attending the Youth Assembly as a young researcher, passionate about international issues, politics, economics, and climate change, I look forward to gaining a deeper understanding of how these issues affect nation state development and the world more broadly. The Assembly provides an opportunity for me to explore these issues and develop solutions locally and internationally. I look forward to meeting content experts and like-minded peers, keen to make an impact within their home countries.
Samantha, as someone who sees the value of technology to improve service delivery, how do you think your expertise and experience will add value to your case study project and what do you hope to learn through this process?
My expertise can add value to the case study through the recommendations and policy suggestions that will come at the end of the project. Our aim is to suggest solutions that could be implemented and sustained in the long run and that are fit for purpose in hospitals; solutions accepted by health practitioners, patients, and the government. I hope to learn how to conduct a proper needs assessment and consider all stakeholders, no matter how marginalized they are, when designing or proposing a solution to any problem.
Elvira, as a business student, what inspired you to join the Reach Alliance? How does Reach fit into your personal and/or professional goals?
I had the chance to work as a research intern for a consulting firm in 2021 and the following year as a market research intern in the same industry. These experiences catalyzed my interest in and love for research and consulting. I joined the Reach Alliance because it will expand my scope of research experience, especially in the healthcare sector, which our case study focuses on. The experience with Reach will also help me to improve my communication, teamwork, and analytical skills which are highly relevant to my anticipated career path in business consulting.
Jochebed, as a data scientist, how do you believe data science supports sustainable development? How does this apply to your case study topic?
Data insights and analysis can inform decision-making and policy development; this is how I believe data science supports sustainable development. By leveraging data science techniques, such as data mining, we can gain a better understanding of problems and thus, develop targeted and contextualized solutions. In our case study, the extent and perspectives of the problem can be understood through data analysis on the root causes of things like low hospital bed availability. Optimization is another important consideration to achieving improved outcomes in our case. For example, our team will look at how to optimize the use of existing hospital beds by analyzing factors such as resource utilization and allocation.
Why is this research important?
Our research findings will be significant for policymaking on eventual interventions to improve the healthcare system and the quality of care offered to the population. Given the referral policy in Ghana, where patients are usually stabilized and referred to the next level of facility where they access the needed care, solving the problem at the level of the tertiary hospitals (which is where complex healthcare needs are addressed) is critical to improve population level health outcomes. We hope that our proposed policy considerations will contribute to reducing the number of patient deaths at tertiary hospitals due to a lack of beds. Globally, we hope our actionable research insights will contribute to understanding the problem of bed shortage in the healthcare sector, eventually contributing to responsive policymaking and the implementation of solutions to reduce the number of patients who die due to the lack of beds in tertiary hospitals.
"The value of these students' ability to think across disciplines and approach problems from multiple perspectives is essential to the assessment of the problem from a systems perspective and thinking through holistic recommendations and interventions to help stakeholders resolve the challenge", says Professor Disraeli Asante-Darko. Overall, this case study provides a unique opportunity to shed light on a local issue and its global health implications.