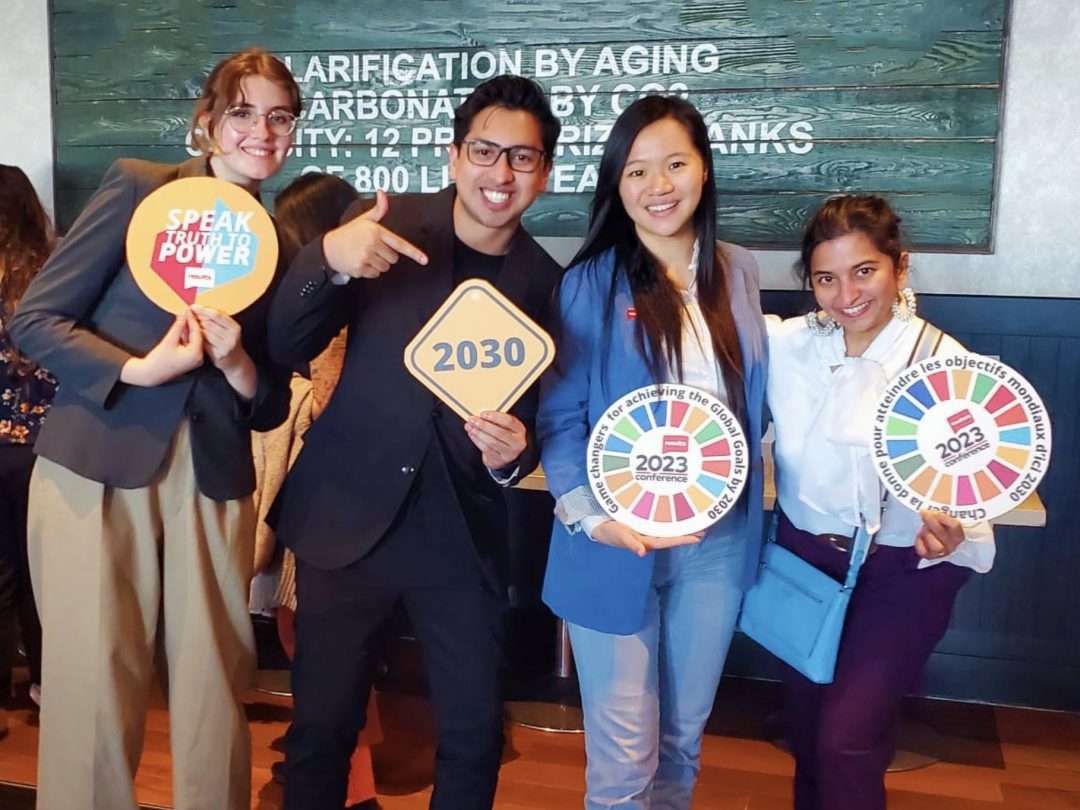 Earlier this month, Results Canada held their National Conference in Ottawa, Ontario focused on the game changers that are needed to get the world back on track to achieving the 2030 United Nations Sustainable Development Goals (SDGs). Four University of Toronto Reach researchers and alumni attended the conference, including Noah Khan (2023-24), Viviana Behrendt (2022-23), Angela Min Yi Hou (2018-2019), and Anushree Warrier (2018-2019).
Over three days, our researchers connected with other volunteers and partners, learned new skills through interactive workshops, and heard from global advocacy champions. In addition to strengthening their advocacy skills, researchers had the opportunity to meet with parliamentarians on a Day of Action and advocate for global development. Reach more about what the Reach delegation learned from the experience. 
Angela, what motivated you to take part in the Results 2023 Conference: Game Changers for Achieving the Global Goals by 2023 and what did you take away?
The Results 2023 Conference brought together diverse perspectives on international development, from global health practitioners to international finance experts, from theoretical discussions on decolonizing aid to practical project-level insights. I resonated with the conference's reflections on the power of lived experience and storytelling, highlighting a human-centered approach to development work. The lessons learned at this conference have improved my political acumen and understanding of advocacy, which will prove very useful in my current role as a policy analyst in the public service. The insights presented offered a different lens through which to view policymaking and Canada's political system.
Viviana, the conference focused on building advocacy skills. What did you learn about being a more effective advocate? How do you plan to use these advocacy skills to advance the SDGs and position your case study research for impact?
Through participating in the Results 2023 Conference, I recognized the complexity of advocacy. Throughout the Conference, it was consistently emphasized that advocacy work regarding vulnerable communities cannot be a top-down approach. My Reach teammates and I utilized this concept during our fieldwork by centering our research around the perspective our participants want us to convey. In addition, the focus on conveying digestible information to the public as a mechanism of advocacy within the Results conference is proving to be highly relevant when writing our case study report, especially due to the environmental advocacy themes that are a part of our research.
Noah, as an incoming Reach Alliance Researcher, what did you learn at Results 2023 Conference that will shape how you approach your upcoming case study?
The Results Canada Conference was extremely helpful in setting forth templates for effective advocacy that I'll be employing in the knowledge translation phase of my upcoming case study project. The conference covered the manifold prongs of a robust knowledge translation plan to move one's findings into the policy arena. Moreover, it served as a great demonstration of how important solid teamwork is in getting knowledge translation off the ground. Working with new people on conference activities or in discussions showed how integral it is to identify strengths within teams to get each member working on a task they're best suited for within an overarching plan. To that end, the SDGs served as a very useful framework for finding high-level goals that teams can connect through.
Anushree, can you share more about what you learned?
As we approach 2030, I feel more answerable to the questions: how many people are yet to move out of poverty, to access essential healthcare, basic nutrition, primary education, financial and physical security?
At the Results Canada conference, I listened to experts who have served grassroots communities around the world, learned from the results they achieved and was inspired by the actions and advocacy that need to be implemented for better results. I learnt that game-changing solutions cannot be universal, and warrant consideration of regional power structures and contexts when thinking of solutions and aid for global challenges (inequitable access to vaccines during pandemics, impacts of international aid withdrawals on local communities, etc.)
As a young woman and a visible minority with roots in the global south, I now feel more responsible, privileged, and accountable to shift the global dialogue through my work in the development and impact space. I will be more conscious of the inequity in power structures when assessing the impact of programs at work, and I will continue to work towards enabling Canada to become a more thoughtful and powerful ally for countries in the global south.
Why is this important?
We are so pleased to have had our global leaders participate alongside over 100 passionate advocates of social justice and sustainable development. As we reflect on the catalytic role Canada can play in renewing national SDG ambitions written by Margaret Biggs, Reach Advisory Council Member we recognize that we are at our best when we serve others. That's what game changing is about. Let's continue to be game changers to help forge a better path to sustainable development for all!