News: News
Leading the Way in Higher Education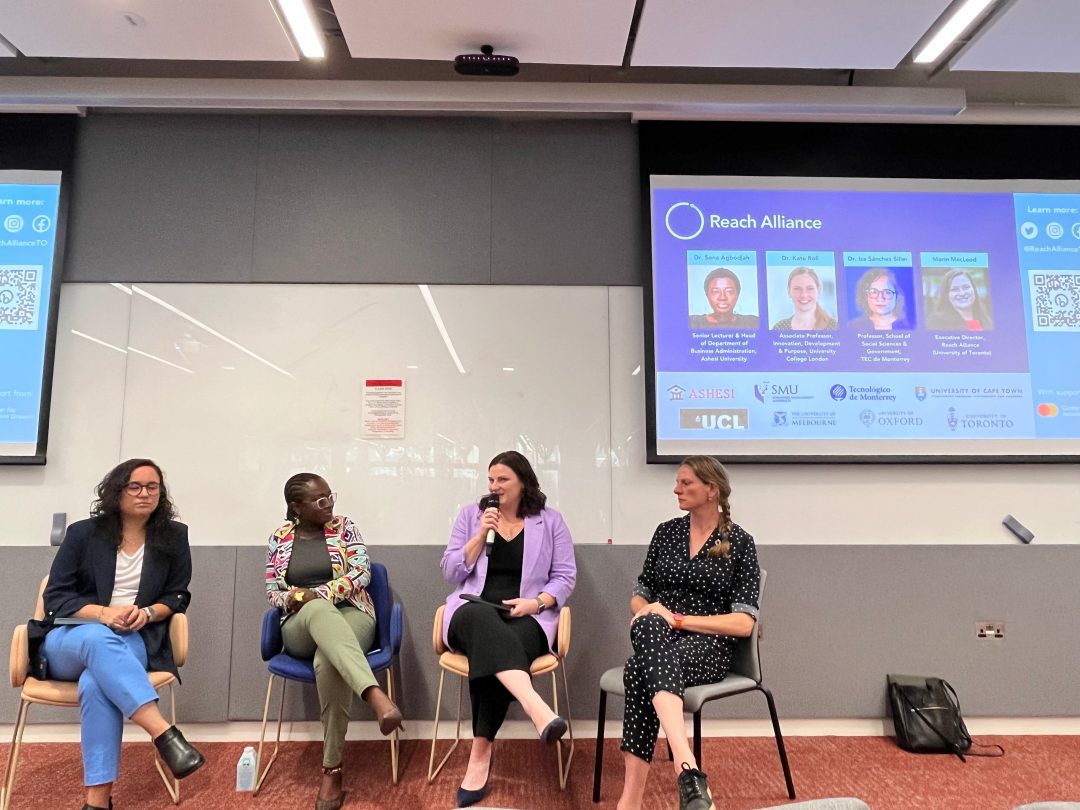 The International Conference on Higher Education Reform (HER) facilitates insightful discussions around the role of higher education policy and the reforms needed to enable Higher Education Institutions to address the United Nations' Sustainable Development Goals (SDGs). The HER conference invites the research and teaching communities to consider the transdisciplinary effort urgently needed in education to adapt to climate change and other global issues. 
Last week, Reach Alliance Executive Director Marin MacLeod, Reach Alliance Senior Research Program & Engagement Officer, Moni Kim, faculty mentors Dr. Iza Siller (Tecnológico de Monterrey), Dr. Sena Agbodjah (Ashesi University), and Dr. Kate Roll (University College London) participated in the 17th annual convening of the HER conference at the University of Glasgow.
Our esteemed Reach community members shared Reach's interdisciplinary approach to tackling the SDGs through a panel discussion focused on the question: How can universities contribute to the UN Sustainable Development Goal (SDGs) through their teaching and learning mission while simultaneously building trans-sectoral and transdisciplinary skills among their student bodies?
"The provision of holistic skills training and the practice of applied research at the Reach Alliance provides a learning environment that helps students develop agency and urgency to address the SDGs" said Professor Sena Agbodjah, Head of the Business Administration Department and Senior Lecturer at Ashesi University.
For the last seven years, Reach has scaled its experiential learning model by convening interdisciplinary students and faculty from around the world to contribute to and learn from rich, cross-sector discussions focused on understanding how to reach those hardly reached, the administratively invisible, geographically remote and marginalized. Thus, the dialogue surrounding the imperative for post-secondary institutions to keep pace with uncertain times and further conceptualize their role in local communities and economies, in tandem with internationalization, is increasingly reflected in the evolving metrics of Reach's strategic plans. 
The panel drew from Reach's seven years of implementing the initiative at the University of Toronto, including three years of scaling globally.  Some of the driving key elements to Reach's global academic institutions' commitment to sustainability and education reform identified by each of our faculty mentors during their session included:
Professor Iza Siller (Tecnológico de Monterrey) on co-creation: When Reach began at Tecnológico de Monterrey (TEC) three years ago, TEC was piloting an interdisciplinary and competency-based teaching strategy that aligned with Reach's approach. Initially, Reach started as a faculty research project, but has since adapted to TEC's unique institutional context. Now, the Reach Alliance at TEC provides faculty and student incentives, such as student volunteer hours and faculty teaching credit. This has allowed the initiative to scale from one research team at one campus to multiple teams across three campuses with plans to continue expanding.
Professor Sena Agbodjah (Ashesi University) on shared experiences: Reach provided a new opportunity for Ashesi University to bring to life our institutional priorities on the SDGs and the Times Higher Education (THE) Impact Rankings. Reach provides a way for students to practice applied research to inform policy and provision of services, learn from others in a global network while receiving collaboration and leadership skills training.
Professor Kate Roll (University College London) on the value proposition: the Reach approach aligns with the University College London's (UCL) teaching and research strategy, creating value for the different stakeholders involved. As faculty mentors, we get to work with multi-disciplinary colleagues where I am challenged and stimulated. From research partners in the community, there is a positive receptivity to the knowledge generated from Reach researchers because community practitioners are interested in improving their own practice and providing better services.
There are institutional challenges associated with implementing interdisciplinary initiatives and universities need to create new pathways and innovate administrative processes to support impactful experiential teaching and learning opportunities like Reach. Forums such as the Higher Education Reform Conference provide an opportunity for the exchange of ideas and research insights, fostering local- global engagement. Reach, through our university partners, will continue leading by example as a transdisciplinary experiential learning initiative focused on accelerated achievement of the Sustainable Development agenda. We look forward to engaging with other sector leaders and to ongoing learning opportunities that stem from these connections.