News: News
RightsCon Costa Rica: From Land to Sky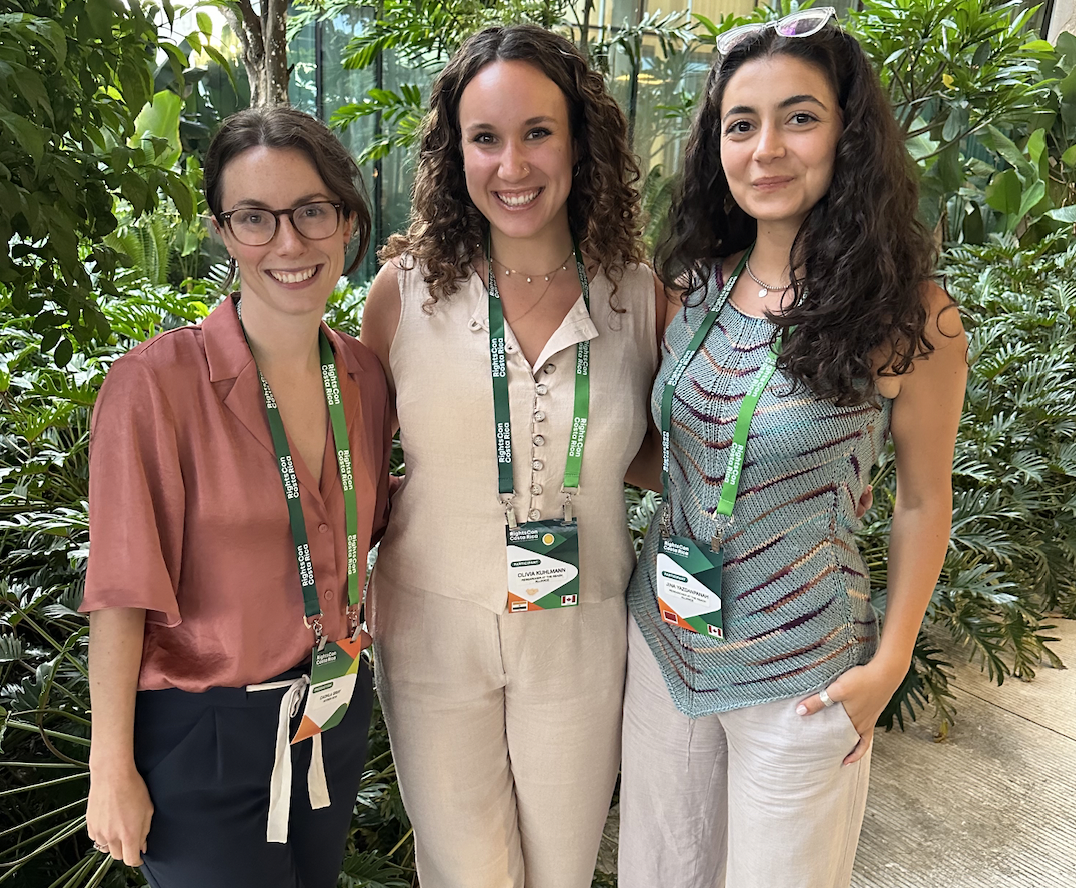 Since 2011, Access Now has hosted its RightsCon summit, a space where stakeholders – from tech companies to government representatives to human rights defenders – come together to build a rights-respecting digital future. Last month, two Reach Alliance alumni Jina Yazdanpanah and Olivia Kuhlmann took part in San Jose, Costa Rica. We caught up with Olivia and Jina to hear more about their experience. Here's what they had to say! 
Jina, can you tell us about your session and how it went?
On the third day of RightsCon in San Jose, Costa Rica, Olivia and I hosted our session "From Land to Sky: climate resilience and improved food and water access through gender-sensitive information and communication technologies (ICT)". The style of our session was a roundtable discussion with participants from engineering, digital rights, journalism and law. During our session, we had the opportunity to present the keys findings of our Reach teams' research, walking through our two case studies, "Water in the Desert: Dar Si Hmads Fog Harvesting Program" and "Cutting Through the Grass Ceiling: Supporting Women Smallholder Farmers with the Collective Power of Community, Participatory Learning, and Trust". As we showcased actionable insights from our research, we  discussed how gender-sensitive ICT played a role in the sustainability and success of Dar Si Hmad and Digital Green's interventions, highlighting common themes between our case studies about the way technology can uplift and empower the role of women in remote contexts. The main goal of our session was to facilitate an intimate opportunity to exchange, discuss and reflect on our participants' experiences to better understand the gaps and opportunities of ICT in the development space. 
Olivia, what were some key takeaways from your session?
We had the pleasure and privilege of connecting with people from all over the world, of varying ages and genders, and different academic and professional backgrounds. Despite being such a diverse group, there seemed to be a universal experience for most people in the room. Participants were quick to bring up the complexity of designing programs and interventions that promote gender equity and women's empowerment due to varying social, cultural, political, and environmental context of communities. An intervention that helped to support women's empowerment in one context may not have the same desired impact in another community due to these varying factors and the intersectionality of gender with other forms of marginalization such as class, education, race, ethnicity, sexual orientation, disability, and age. This discussion led to three key takeaways relating to designing gender-sensitive and scalable programs.  
There is no universal definition of women's empowerment. Empowerment means different things, to different women, at different points in their lives. Participants gave many examples of what empowerment meant to the women in communities they had partnered with in the past; including, the ability to go to school, the ability use and understand technology, the ability to sit at a table and have their voices heard during decision making processes. Despite the varying definitions of empowerment, something that was unanimously agreed upon is that empowerment is quantifiably hard to measure. The push for funders to accept more qualitative measures, such as storytelling and art, as part of assessments and evaluations was one potential solution brainstormed during the session.  
Programs must be designed in active partnership with the members of the communities they are meant to serve. From the outside, it is easy to want to provide solutions and "fixes" to visible problems. However, understanding the problem was identified as being a crucial and a non-negotiable part of the process. No one understands the nuances and multi-faceted layers of a situation better than the people who are affected by it in their daily lives. Connecting with communities to establish trust and to build rapport prior to implementation allows for the establishment of clear lines of communication. Good communication equates a better understanding of the situation, which ultimately results in greater acceptance and uptake. One participant gave the example of a program that was being run in partnerships with schools in India. An education program was designed, and sessions were planned according to pre-determined learning goals. However, once they got to the schools, they quickly realized that the topics would not be relevant to the students because there were more pressing issues that needed to be addressed first. In the moment, they had to adapt their lesson plans to meet the identified needs of the community.  
Programs should be intentionally adaptable. Technology and climate change are both advancing at near exponential rates. This results in many people living dynamic and volatile situations. Since the state of affairs can rapidly shift, is it important to design programs and interventions that are able to adapt to these changes as they arise. One method of improving the adaptability of programming is to implement effective monitoring and evaluation strategies. These strategies should be designed in a way that allows for all people to have a voice, especially those who are most marginalized and often do not have their voices heard. Unsurprisingly, many tech-based interventions use tech to evaluate the effectiveness of their interventions. This inherently creates bias when trying to determine who is not being reached as many of the world's most marginalized people do not have stable or constant internet access. To overcome this barrier, one participant brought up the idea of using offline data collection tools. These tools allow for the collection and review of data on a device without using the internet. The information is then uploaded to the server once internet connection is restored. 
Jina, in what ways will your participation at RightsCon Costa Rica influence how you plan to engage with stakeholders in future Reach research knowledge dissemination and your professional work?  
We hoped to analyze the insights from our session to map solutions for how best gender-sensitive ICT can be implemented as a tool for interventions reaching hardly reached populations. Throughout our session, we discussed the importance of context sensitive approaches to women's empowerment, community partnerships and intervention adaptability. A central question defining our discussion was investigating the capacity of ICT as a supportive tool rather than a central technology. Within the digital technology industry, traditional and basic ICT tools are viewed with controversy. 
The opportunity to attend RightsCon has been fascinating, inspiring and invaluable. In addition to facilitating our session, Olivia and I attended a range of events, learning from talented individuals and making amazing new friends! A major theme presented at the conference was how advances in Artificial Intelligence will impact humanitarian efforts. Having just graduated from the University of Toronto with a Bachelors in Industrial Engineering, specializing in Artificial Intelligence, I was very interested to learn more. From attending workshops and discussing with industry professionals, I learned that a large knowledge gap continues to exist with regards to digital and technological literacy in humanitarian efforts. However, this gap is becoming increasingly disempowering as advances in AI grow exponentially. As we are accelerating towards a digital future, it is important to draw attention to this gap, not with regards to the digital literacy of marginalized populations but rather within the communities of activists and experts seeking to support them. With a gap in technological fluency, activists are at risk of being ill-equipped, without the vocabulary or skill set to protect, serve and uplift voices within a digitally competitive landscape. 
As I move forward in my career and research, as an individual from an engineering background, the realization of this gap is crucial. This learning opportunity has highlighted a new perspective with regards to the importance of communicating technical findings in an effective way. Not only is it important in order to increase transparency and understanding, but it is also key to successfully integrating individuals from a range of backgrounds to facilitate multidisciplinary collaborations. Moving forward, finding meaningful and accessible ways to communicate technical information will be central to my knowledge translation activities. 
Olivia, what did you learn about human rights in the digital age at RightsCon Costa Rica that you'd like to share? 
Something that had a great impact on me during RightsCon was learning more about the ways that Gender-Based Violence (GBV) is perpetuated in online spaces and how this inherently creates bias. UN Women estimates that up to 58% of women have experienced GBV facilitated by technology, which they define as "the use of information communication technologies or other digital tools which results in or is likely to result in physical, sexual, psychological, social, political or economic harm or other infringements of rights and freedoms". So, what is being done to address this silent pandemic and ensure that online spaces are safe for women and girls?
I also attended a session co-hosted by the Global Partnership for Sustainable Development Data, Restless Development, and Youth for Privacy focused on the new #DataValues Manifesto. The Manifesto calls on governments, companies, civil society organizations, donors, and other key actors to make positive changes in how data is funded, designed, managed, and used. The session was designed to center the voices of young people, as their lives are deeply intertwined with data and technology, yet they are often left out of decision-making processes. I left this session, and RightsCon as a whole, with three main commitments:
To better understand how I interact with technology in my day-to-day life.  
To research how I am represented in data and to seek out avenues of advocacy to shape how my data is being used. 
To educate myself and others about human rights in online spaces to prevent and decrease experiences of GBV.
Rapid advancements have led to digital technologies being used in almost every aspect of human life. It is crucial now more than ever that we all do our part to ensure that these tools are not used to cause harm or perpetuate existing forms of marginalization, but rather to foster positive change, innovation, and connectivity.