News: News
Reach Building Community and Sharing Insights in New York City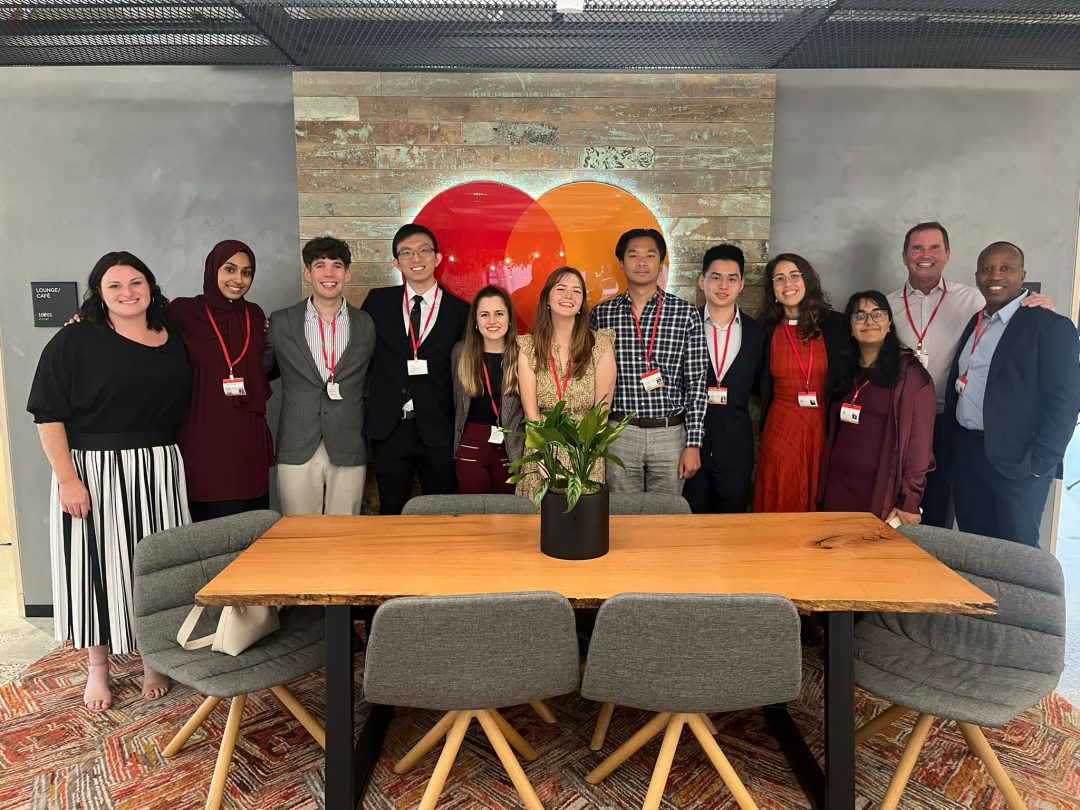 This month, Reach proudly sent nine researchers and alumni to New York for the AFS Youth Assembly — a global event that brings together young leaders and changemakers through exchange, education, action, and impact. Reach delegates went to connect with other trailblazers and take action toward the United Nations' Sustainable Development Goals (SDGs). This year's theme, "Celebrating Ways Youth Lead as Agents of Change for the Global Goals" emphasizes the importance of young people's contribution to achieving the 2030 agenda.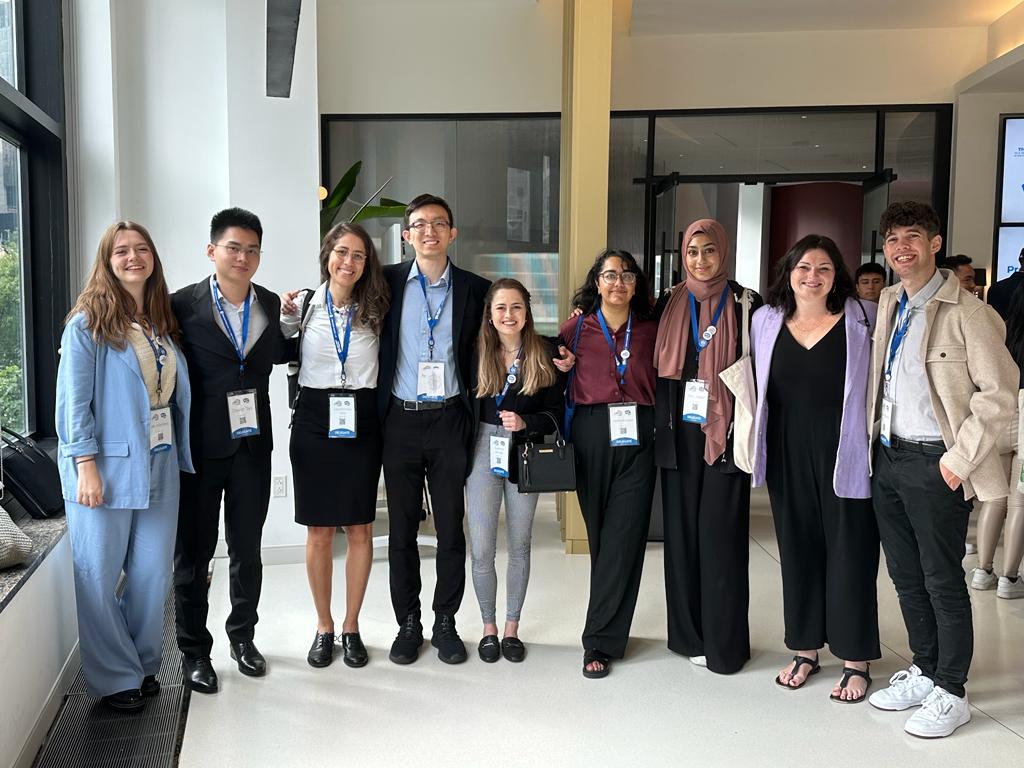 Our delegation included Jayden Battey from the University of Melbourne, Laisa Barroso Lima from the University of Oxford, Alejandra Martinez from Tecnológico de Monterrey, Dexter Tan from Singapore Management University, Savannah Verhage from the University of Cape Town, Safaa Yaseen from University College London, and Aisha Shafaqat, Jason Lo Hog Tian, and Peter Zhang from the University of Toronto.
When asked what struck her about this year's Youth Assembly, Aisha Shafaqat told us, "I've always been interested in innovative approaches to public-private partnerships to address development challenges. So the opportunity to bring my private sector experience and the perspective from my Reach research to address multidisciplinary approaches to the SDGs, in such a diverse environment of expertise was huge."
Peter Zhang shared similar sentiments: "As an incoming PhD student at the University of Toronto with interests in studying the entrepreneurial mindset, it was a valuable learning experience for me to engage with young leaders and learn about the projects or organizations they lead."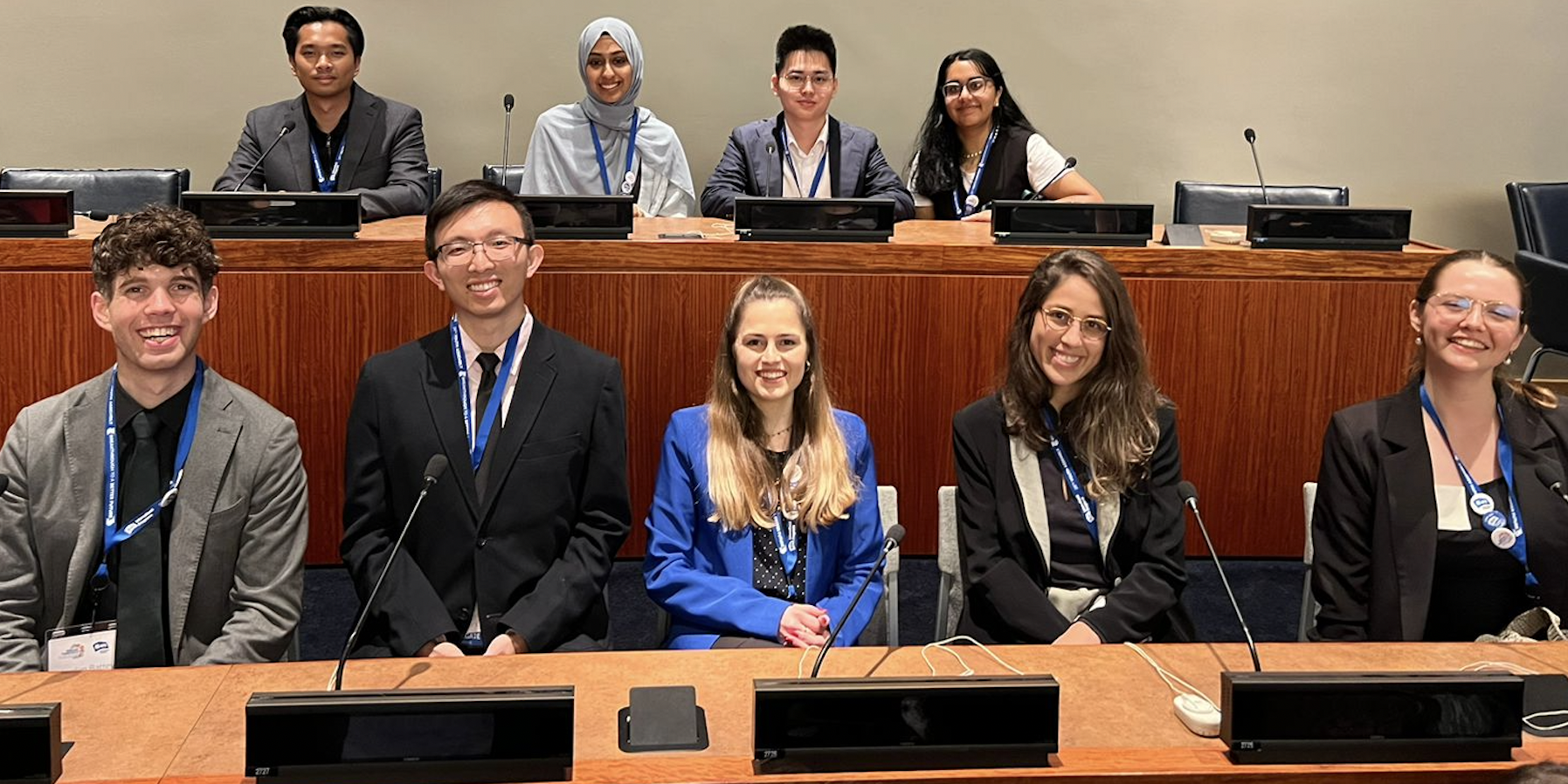 Being among hundreds of young global citizens from over 100 countries over three days made for lively conversations and countless opportunities for knowledge exchange between our researchers and the other dignitaries, leaders, educators, activists, and champions of sustainable development who attended.
"Coming away from the Youth Assembly, I've been reflecting on how there are boundless great ideas to solve pockets of injustice in our world — but it's partnership that can take us there. No one person or organization has a monopoly on good ideas, and working together, we'll always be more successful/sustainable in delivering great outcomes than working alone. It takes humility, courage, and bold determination to take us there together," said Jayden Battey.
This year's event highlighted an urgent reminder of how we are halfway to 2030 and still nowhere near achieving the SDGs. According to Jason Lo Hog Tian, "We are at a tipping point with the SDGs — halfway through and we are behind on almost all the goals. It's going to take a drastically accelerated effort if we want to stand a chance at achieving these goals in the next seven years. And a big part of that is finding a way to mobilize and build the capacity of young leaders to contribute to the SDGs."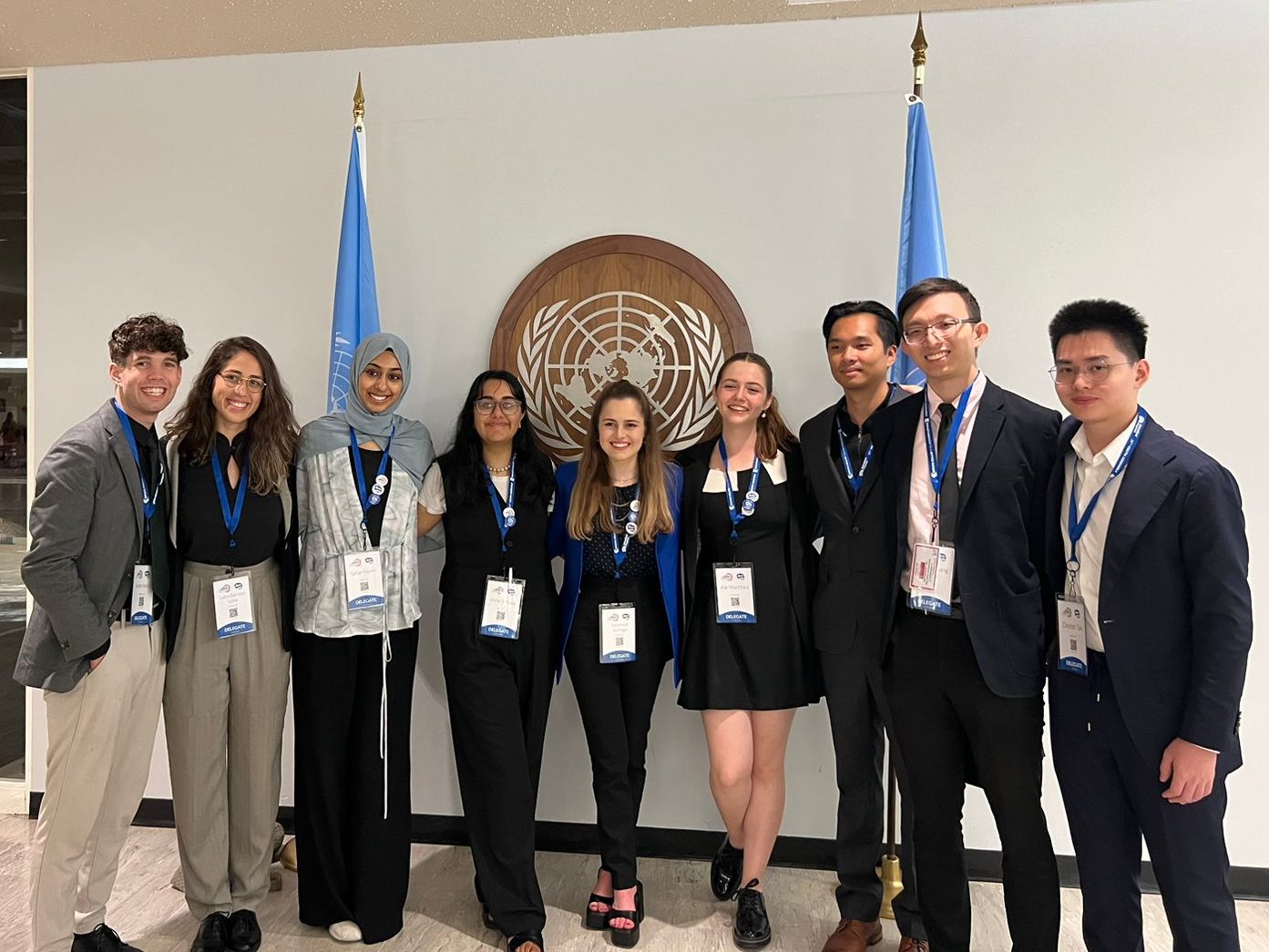 Three of our delegates (Peter, Alejandra, and Safaa) facilitated a discussion alongside Reach Alliance Executive Director Marin MacLeod on their experience with knowledge translation and skills development at Reach and how they've carried it forward in their academic and professional endeavours. Safaa Yaseen described the "panel discussion [as a] great insight into how connected Reach researchers truly are. I found myself noticing many similarities between my own case study and that of my colleagues Peter and Alejandra. Despite having vastly different topics of research, there are so many approaches and skills we can learn from each other. I think the greatest strength of Reach is the ability to collaborate with people from different backgrounds. The importance of this was also reflected throughout the Youth Assembly Conference."
"Outstanding Delegate Award" Recognizes Savannah Verhage
Our Reach delegation had a lot to celebrate when this year's Outstanding Youth Delegate Award was presented to Savannah Verhage for her excellent leadership skills and impressive experience and track record in youth engagement and action for sustainable development. She was chosen out of over 700 youth from 100 countries after a rigorous selection process and received the award at the closing session. She said this about youth leadership in action for the Global Goals:
"By tapping into the enthusiasm, creativity, digital proficiency, and unwavering commitment of young individuals, we have the potential to shape a more promising and sustainable future for all. This experience has instilled in me a renewed sense of confidence to fearlessly collaborate with stakeholders to explore bold strategies for tackling the Sustainable Development Goals (SDGs) in the context of my case study research. This is important as collaboration and partnerships are critical to success."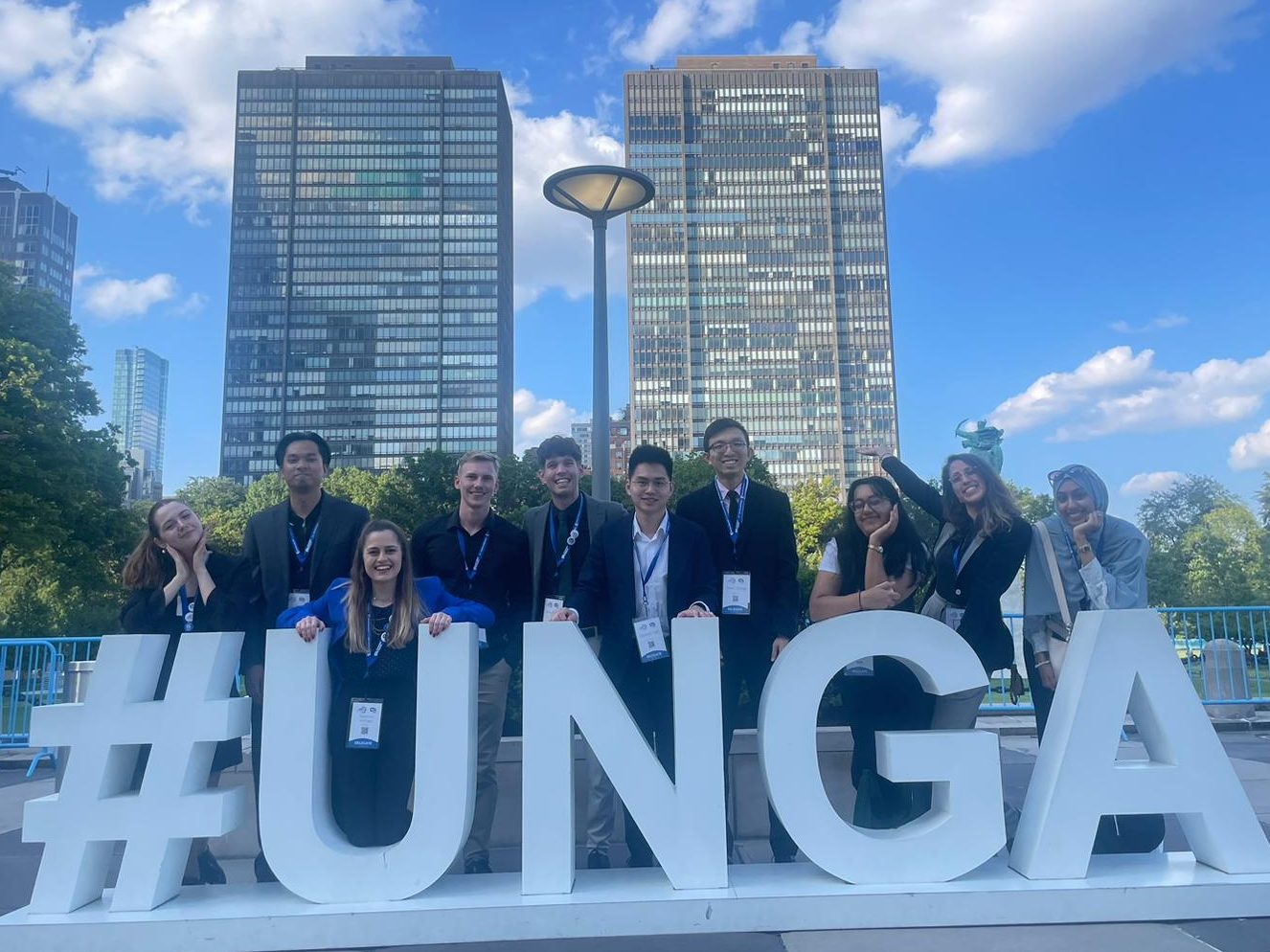 Although International Youth Day is officially just one day, we're celebrating it throughout the month of August because Reach is committed to supporting opportunities for our young global leaders to create positive change, create long-lasting relationships, share actionable insights, and drive impact. As Dexter Tan sees it, "Youth, regardless of age, have the capability to collaborate both locally and internationally, channeling our energy and passion to make significant strides toward the global goals."