News: News
Reach's Approach to Alumni Engagement and Mentorship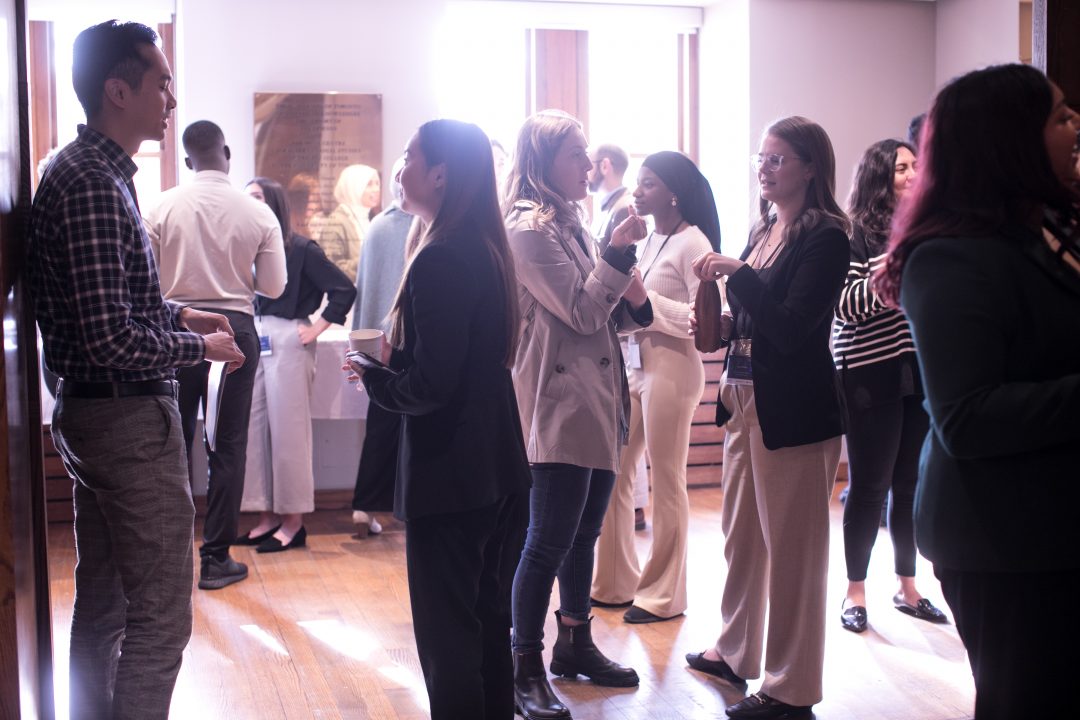 With over two hundred alumni around the world, Reach has cultivated a diverse group of purpose-driven leaders who bring together global perspectives, viewpoints and opportunities. To facilitate building effective relationships and long-term networks, Reach continues to create opportunities for collaboration amongst our researchers and alumni network both within and across institutions. We recently caught up with three Reach -University of Toronto alumni Anushree Warrier (2018-19), Peter Zhang (2018-19) and Angela Minyi Hou (2018-19) to learn about their alumni engagement and mentorship experiences.
Meet Anushree of Team Tanzania (2018-19)
As a Reach alum, in what ways have you stayed engaged since you've published your case study report? How have mentorship opportunities informed your personal or professional path?
After my team's case study Reaching the Last Mile: Tanzania's Medical Supply Chain in 2019, I led a Reach workshop on qualitative research design and methodology, have participated as an interviewer in the researcher recruitment process, and represented Reach at the Results Canada Conference in Ottawa in May 2023. There is something to learn from everyone's journey, and I love staying in touch with people who have been an integral part of my different life chapters. One of the biggest blessings of Reach has been the incredibly inspiring network of researchers and alumni. As a mentee, I have had the opportunity to meet some super cool people, learn about their journey and apply those lessons to hurdles and opportunities in my life. As a mentor, I have become a better listener than a speaker. I have taken these mentorship opportunities to learn more about my mentees, relate to their journey and offer insights that can nudge or catapult them towards long-term success. I also take the time to connect my mentees with my peers or mentors – and this has made me a more reflective and thoughtful person.  
Meet Peter of Team India (2018-19)
As a Reach alum, in what ways have you stayed engaged since you've published your case study report? What would you say is the importance of mentorship both at Reach and beyond to you?
Since my time at Reach, I've been able to stay connected and engaged through opportunities to mentor incoming researchers, lead workshops at the annual Reach Symposium, and participate in ongoing global experiential opportunities. I'm especially excited to participate in the upcoming ASF Youth Assembly in New York this year with fellow Reach researchers. When I started my university journey, being a student mentee played a key role in my personal growth and development. I was able to navigate resources, opportunities, and problem solving a lot more effectively by learning from my mentors. Now that I've built up my own experiences, it's extremely rewarding to give back to the community as a mentor both within and outside of Reach.
Meet Angela of Team Tanzania (2018-19)
As a Reach alum, in what ways have you stayed engaged since you've published your case study report?
After my team's case study Reaching the Last Mile: Tanzania's Medical Supply Chain was published in 2019, I participated in a panel discussion on the use of data and digital technology to advance the Sustainable Development Goals (SDGs) at the 2022 Reach Symposium. Then I joined two Reach alum Shahd Fares (University of Toronto) and Marisa Teran (Tecnológico de Monterrey), to present to Global Affairs Canada, which later evolved into a written piece on localization in international development. In the same year, I attended the 2022 What Works Summit in Banff, Alberta with a Reach delegation, where I led discussions in the Climate Change Working Group. In sum, working with other Reach alum to distill development insights across case studies has been a rewarding way to engage with broader topical debates in international development.
What has your experience been like being a Reach mentee and mentor? What are some ways you've stayed in touch with other Reach researchers/alumni?
Having benefited hugely from the guidance and generosity of others, I am passionate about mentorship and paying it forward, including through the Reach Alumni Mentorship Program. Given the high caliber of Reach researchers, I am always impressed by how much I learn from my Reach mentees (Hui Wen, Wan Li, and Beiwen – huge shoutouts to you here!), who are also mentors to me. I leave mentorship conversations with renewed reflections about careers in international development, my privilege and positionality, and the impact and purpose of Reach's work. The Reach community also provides fertile ground for excellent friendships. My Reach buddies, both in my 2018-19 cohort and beyond, have become some of my closest pals, travel buddies, project co-authors, and professional path guides. We have entered policy competitions together, jointly drafted articles, shared job-seeking insights, connected each other with professional communities of interest, and more. 
What advice would you give to new researchers and alumni regarding how/why to stay engaged?
Get to know your Reach community and put your hand up for opportunities to get involved! The Reach team is actively expanding its alumni engagement, and you are invited to be a part of it. Apply to join conferences as a Reach representative, invite a Reach alum for coffee, or volunteer your ideas to the leadership team on how to engage the alumni community. I promise it is a worthwhile endeavor!
If you are a Reach alum and haven't already, make sure to join Reach's alumni portal here and learn more about Reach's growing alumni network here.