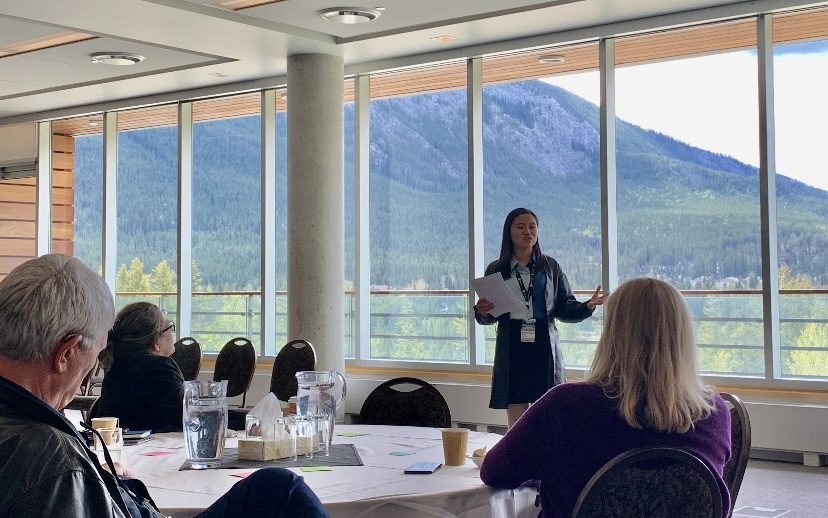 Author: Angela Minyi Hou
At the 2022 What Works Summit hosted by the Social Progress Imperative in Banff, the CEO of Reconciliation Canada Karen Joseph asked a room of social change makers: what decisions would you make if your children were in this room watching you?
The spirit of this question could not be more relevant when it comes to facing the existential crisis of climate change. Participating in the summit as a Reach alum, I facilitated a working group on climate change and the just transition on June 1, 2022.
According to the International Labour Organization, a "just transition" refers to maximizing "the social and economic opportunities of climate action, while minimizing and carefully managing any challenges – including through effective social dialogue among all groups impacted". Evident in this quote is the fact that our path toward a net-zero, carbon-neutral future will not unfold equitably between countries, sectors, genders, ethnicities, races, income brackets, education levels, forms of employment, geographies and more. Rather, those who have contributed the least to climate change are among the most affected, unfairly called on to be resilient and adaptable to devastating climate effects. In other words, climate change is the new inequalizer.
The most vulnerable communities are also disproportionately implicated by the measures that seek to address climate change. Communities that are economically reliant on emissions-intensive and ecologically sensitive sectors are often living in routinely under-invested regions (think mining neighbourhoods, coastal communities, agricultural smallholders etc.). Government commitments to phase out inefficient fossil fuel subsidies needs to be paired with targeted support for low-income households, who may witness first-hand energy unaffordability and insecurity.
Internationally, the inequitable effects of climate change project a shadow on countries that are lesser developed. Economies that rely on exports of primary goods, natural resources, and agricultural products have incentives to question the transition to a circular economy. As advanced economies invest in the future of electric vehicles, the challenge of reliable, ethical, and sustainable sourcing of precious metals and critical minerals for EV batteries is apparent.
Underpinning these axes of inequity is also a sentiment of inter-generational injustice. Decisions about climate change are being made without those who will live with the consequences.
Irrespective of sector, decision-makers urgently need to incorporate a climate lens into their work. The cross-cutting intersection of environmental, social, and governance (ESG) considerations must not serve as a catchphrase, but a rude awakening to act. To achieve inclusive and sustainable development, climate and human well-being must be included in our measurements of success, rather than insisting on models of "progress" that fixate on growth at any cost, or a GDP-exclusive view of development.
Absent meaningful action, climate change will entrench and deepen existing socio-economic divides, and even roll back hard-won developmental milestones. The Reach Alliance's case studies have shown that environmental considerations affect the success of other SDGs and the effectiveness of delivering solutions to the hardest-to-reach.
Take health as an example – SDG 3 (Good Health and Well-Being). Global warming not only gives rise to new infectious diseases, as we commonly hear in the climate-health discourse, but also impairs the delivery of crucial biomedical goods and services. In the Reach case study on Sri Lanka, monsoon seasons delayed the transport of malaria-control supplies. Similarly, in Tanzania, rainy seasons washed out roads and made medical deliveries inaccessible to vehicles, increasing stockouts in rural clinics and undermining supply chain improvements and delivery route optimization. In Rwanda, enhancing flood-resistant rural infrastructure and adjusting the timing of childhood vaccination campaigns contributed to boosting the country's public immunization. Drone technology was adopted for blood delivery to address road and public transport inaccessibility, in order to serve over 60% of the Rwandan population who live more than 2km from an all-season road.
In addition to physical well-being, a climate-induced mental health crisis is also brewing. It manifests in the trauma of surviving a not-so-natural disaster or extreme weather event, which are bound to increase in frequency and severity due to climate change. The mental health crisis also looms in the spiritual alienation experienced by communities with sacred relationships with their exploited and degrading land, as well as growing sentiments of climate anxiety, crisis, and disenfranchisement among youth who are concerned about our futures.
On SDG 2 (Zero Hunger) and food security, the work of the Productive Safety Net Programme in Reach's Ethiopia case study shows how cash and food transfers, along with public works projects, strengthened local climate resilience and disaster risk management. The ongoing Reach case study on India examines how Digital Green used technological tools to disseminate knowledge on climate-resilient, nutrition-sensitive, and inclusive agricultural practices to lift smallholder farmers out of food insecurity.
On SDG 7 (Affordable and Clean Energy), the World Bank's Renewable Energy for Rural Access Program in Mongolia helped distribute solar home systems to rural nomadic herders, connecting them to digital networks, market prices, weather forecasts, and thus information for efficient livestock management through the provision of electricity.
On SDG 6 (Clean Water and Sanitation), an ongoing Reach project is investigating fog harvesting technology applied in the Anti-Atlas Mountains in southwest Morocco, striving to improve water access for the Amazigh people, a North African Indigenous population.
The plethora of insights captured above is accredited to the tireless work of generations of Reach Alliance colleagues. Our inquiries collectively demonstrate that to attain and sustain developmental outcomes, climate cannot be an afterthought. Development projects need an environmental dimension to their design, implementation, evaluation, and more.
To address climate change or any developmental challenge, local perspectives are central to providing relevant assistance based on community needs. The research of the Reach Alliance echoes the need for localization and cross-sectoral partnerships that respect and leverage indigenous ways of knowing (lower-case "indigenous" here, but equally important, upper-case "Indigenous"). Communities are not only beneficiaries, but experts – setting priorities, exercising ownership over development solutions, and driving the design of programs that are responsive to their realities.
We must commit to understanding how climate change impacts them, and what they need to effectively adapt to or mitigate its consequences. After all, navigating the foreseen increase in climate volatility and uncertainty will be a growing determinant of whether we can accomplish the 2030 Agenda, leaving no one behind.